SPECIAL EVENTS
The 2024 Festival is brimming over with fun! We're expanding for two special events to the Grand Sheraton Seattle with amazing experiences orchestrated just for you! Enjoy a garden talk filled traditional tea with our British guests or a flower, and love, filled evening with Seattle's celebrity florist. Your ticket to the event will include admission the show, as well as a swag bag!
The Big British Tea | The Sheraton Grand Seattle

Wednesday, February 14, 2024 | 4:30pm to 6:00pm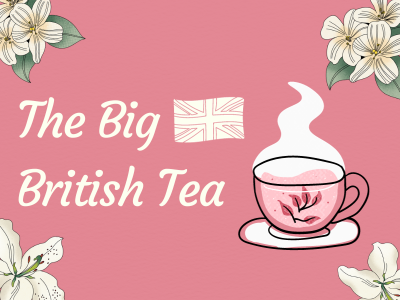 Join garden guests from across the pond for a traditional - and tasty - afternoon tea! Enjoy a menu of nibbles, sweets and "a cuppa" with a tea specialist sharing pointers on taste and "proper" preparation. NWFGF Garden Judge Jo Thompson, "Mr. Plant Geek" Michael Perry, and resilience expert Kim Stoddart will participate in a brief panel, answer questions then mix and mingle while signing their beautiful books. There may be a few other surprise goodies as well!
Early Bird Price: $125 (limited tickets available)
Regular Price: $150 single
Click Here to Secure Your Spot
An Evening of Flower Love | The Sheraton Grand Seattle

Friday, February 16, 2024 | 6:00pm - 7:30pm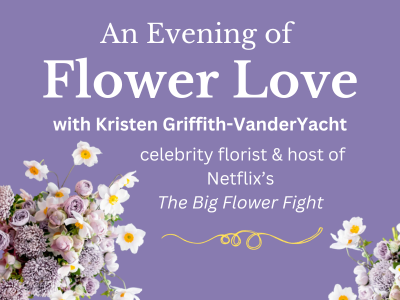 Join us for an exclusive, flower filled soiree with celebrity florist Kristen Griffith-VanderYacht, host of Netflix's The Big Flower Fight. Bask in a beautiful evening with a one-of-a-kind floral demo by Kristen followed by a Q&A hosted by Slow Flower Society maven Debra Prinzing, all while enjoying drinks, canapes, elegant pin-on flowers, photo ops and a signed copy of Kristen's new book, Flower Love: Lush Floral Arrangements for the Heart and Home, plus a few other surprises!
Early Bird Price: $150 (limited tickets available)
Regular Price: $175 single
Click Here to Secure Your Spot