The Northwest Flower & Garden Festival has special show attractions for everyone. Our most popular features are the Show Gardens, the Marketplace, the Seminars, and more.

There is something for everyone - from kids to adults and newbies to experts!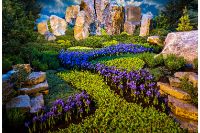 Each year, different Garden Creators from around the Pacific Northwest put their blood, sweat and tears into our stunning display gardens. These incredible works of art, constructed in under 72 hours on the show floor, are central to what makes the Northwest Flower & Garden Festival a world-renowned experience of garden design and innovation. Learn more about this year's Gardens & the Garden Creators.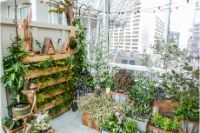 Located on the Skybridge, 10 delightful patio gardens offer lots of practical ideas and inspiration with container garden design, especially for apartment and condo dwellers or anyone with a limited space for outdoor living. Learn more about this year's City Living Displays.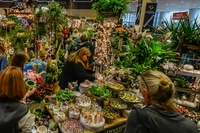 With over 350 high-quality vendors, it's a spectacular shopping opportunity for one-of-a-kind gift items, must-have plants, the hottest new garden accessories, hand-crafted art and furniture, vintage garden wares, books, specialty seeds, artisan gourmet foods, and more. This one-stop shopping destination attracts quality vendors from around the U.S., Canada, Australia, and the U.K.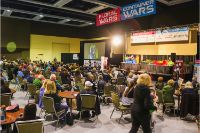 Container Wars returns with fast-paced fun and ideas for great container gardens. You'll get a first-hand look at dueling gardening experts creating beautiful and practical containers, while sharing helpful tips during their 60-minute demonstration. The action will be emcee'd by syndicated gardening columnist and television host Marianne Binetti with some fabulous audience giveaways!!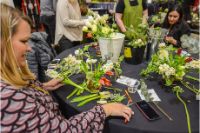 Join us for Blooms & Bubbles – an exciting floral design workshop at the Northwest Flower & Garden Festival! Every day at 2:00 PM, sip on a glass of champagne while creating a fabulous make-and-take project led by a local floral design expert. Includes show admission, all necessary workshop materials, a glass of champagne to sip on, and more. Learn more.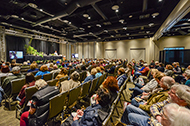 Seminars
When you dig into our FREE seminars and demonstrations, you'll be inspired to turn your garden dreams into reality. Whether you're a novice gardener, or a well-seasoned veteran, our expert Speakers show you how to create gracious outdoor living spaces and luscious, sustainable gardens perfect for your family. View the seminar schedule.
Garden Answer Meet & Greet
Thursday, February 16, 3:00 pm on the Main Stage in the North Hall
Laura LeBoutillier is the creator of Garden Answer and one of the most followed online content creators in gardening! She has 2.7 million followers on Youtube and 3.8 million followers on Facebook. She lives in Eastern Oregon (zone 6) with her husband Aaron and two children, Benjamin (5) and Samantha (2).
Laura has been gardening her entire life. Her parents own a small garden center in Ontario, Oregon, where she was able to work and gain knowledge and love for plants. In 2014 she began producing videos with her husband Aaron doing the filming and editing. In 2016 they started making content full time and now produce 5-6 gardening videos a week on their 8 acre property. Laura's enthusiasm for gardening is contagious and her goal is simply to inspire people to get out and enjoy their garden spaces!