2016 NWFGS Call for Garden Creators
Sep 21, 2018, 17:01 PM
Attention all garden designers, landscape architects, contractors, and many others in the industry: The 2nd largest garden show in the U.S. will herald spring February 17 – 21, 2016 at the Washington State Convention Center in Seattle. If you are interested in being a part of this rewarding endeavor, now is the time to apply. There are still spaces open to be a Display Garden creator and a City Living garden creator.
DISPLAY GARDENS

The
Display Gardens
are often regarded as the main attraction of the Northwest Flower & Garden Show. These gardens greet all attendees and are anywhere from 400 square feet to 1400 square feet (sizing options can be discussed with our Garden Coordinator). The gardens receive immense press recognition and are judged for prestigious awards by top influences in the industry. As a creator, you have the ability to demonstrate your talents, unique ideas, and products… all while advertising your company to the Show's 55,000+ attendees.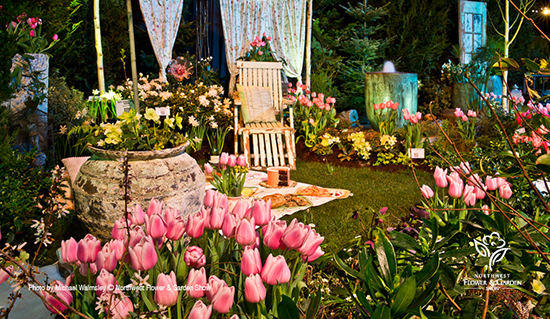 CITY LIVING
Staged on the Convention Center's Skybridge spanning Pike Street far below, our City Living displays garner attention from condo/apartment dwellers and people with limited garden space. 2015 was the first year of City Living and the response was overwhelmingly successful. City Living is perfect for showing off creativity in small spaces, bold plant containers, cozy seating and much more. This is an excellent way to create a beautiful first-time garden at the Show.
If you are intrigued by either of these options, please feel free to contact our Garden Coordinator, Lloyd with your ideas. He can be reached by email: lloyd@gardenshow.com. Lloyd will answer any questions you may have and guide you through the application process. Please note, applications are due by July 1st. Due to the high demand for garden space, contact us as soon as possible!

Being a garden creator at the Northwest Flower & Garden Show is a top accolade with fantastic perks. Don't miss out on this incredible opportunity. We look forward to working with you at the 2016 Show!