Join us for a Winter Garden Carnavale at the 2018 NWFGS
Be one of the first to see the spectacular 2018 #nwfgs Display Gardens
Every year, a prestigious event kicks off the beginning of the Northwest Flower & Garden Show.On February 6th from 5:00-9:00pm, the Arboretum Foundation will be hosting their annual Opening Night Party at the 2018 Northwest Flower & Garden Show.
This year, the party—and the Arboretum Foundation's display garden—is themed after a "Winter Garden Carnavale." Not one, but two 30th anniversaries will be celebrated: the 30th Northwest Flower & Garden Show and the 30th anniversary of the Witt Winter Garden at the Arboretum.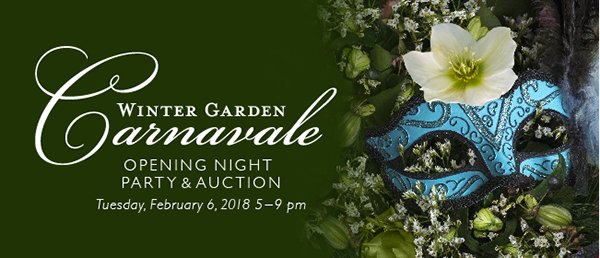 Venetian-inspired masks and festive attire are encouraged for this party, where Carnavale surprises will entertain you throughout the evening. You'll savor delectable food, wine bars, live entertainment, and live & silent auctions. All guests will enjoy a champagne toast, delicious seated dinner, and dessert. The auctions are filled with all manner of treasures—such as travel packages, dining and theater experiences, exclusive garden tours, and more.
A more notable benefit to attending the Opening Night Party is the exclusive opportunity to see the Display Gardens before anyone else, all while benefitting Seattle's oldest non-profit: the internationally renowned 230-acre Washington Park Arboretum.
Escape winter and join us for a dazzling evening at the 2018 Northwest Flower & Garden Show – there'll be lots to celebrate! -Courtney
Jan 5, 2018, 12:55 PM